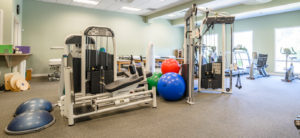 A step above other PT providers, we offer an outstanding clinical staff, the latest technologies, and evidence based therapeutic methods.
Our goal is to help patients recover from injury and pain, and return to the active lifestyles that they enjoy.  We believe strongly in promoting health and fitness, and injury prevention.
We design customized treatment programs to meet each patient's specific needs.  We combine evidenced based practice and each patient's individual needs and goals to create a comprehensive treatment plan to get you back to the activities you enjoy. Below are some of the services we offer, let us know if we can help you today!
Evaluation and Treatment of Orthopedic & Sports Injuries

Pre & Post Surgical Rehabilitation Programs

Biomechanical Assessments

Functional Exercise Programs

Balance & Proprioception Training

Gait & Orthotic Evaluation

Back Stabilization Programs, Postural Education and Training

Running Analysis

State of the art sports simulator-sports include golf, baseball, soccer, and more
If you don't see what you need above feel free to call the office and we will do our best to answer any questions/concerns you have.